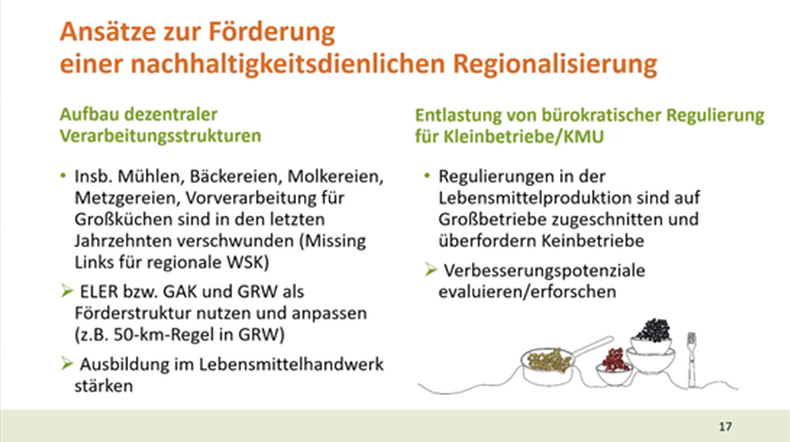 Policy Strategies for Regionalization of Food Systems Promoting Sustainability
Event

Date

Location

online

Speaker

Gerolf Hanke

(Oeko-Institut)

Dr. Lieske Voget-Kleschin

(Kiel University)

Dr. Anne-Monika Spallek

(MdB, Bündnis 90/Die Grünen)
On 4 July 2022, around 30 experts discussed political strategies for a regionalization of the food system, achieving as many positive sustainability effects as possible and avoiding negative impacts. The discussion was based on an input paper by the project team, the core statements of which were presented in two short presentations by the main author, Gerolf Hanke (Oeko-Institut).
The morning short lecture focused on the framework for sustainability-oriented regionalization of food systems.
It was commented by Dr. Lieske Voget-Kleschin (Kiel University) and discussed in the plenary afterwards.
The short lecture in the afternoon presented the policy proposals named in the paper for promoting regionalization that is conducive to sustainability and was commented on by Dr. Anne-Monika Spallek (Bündnis 90/Die Grünen), member of the Bundestag. The proposals discussed in small groups afterwards.
The results of the workshop are integrated into the further work on the topic. A documentation of the results summarizes the discussions – in accordance with the Chatham House Rule without naming the persons who expressed the respective arguments.
Contact