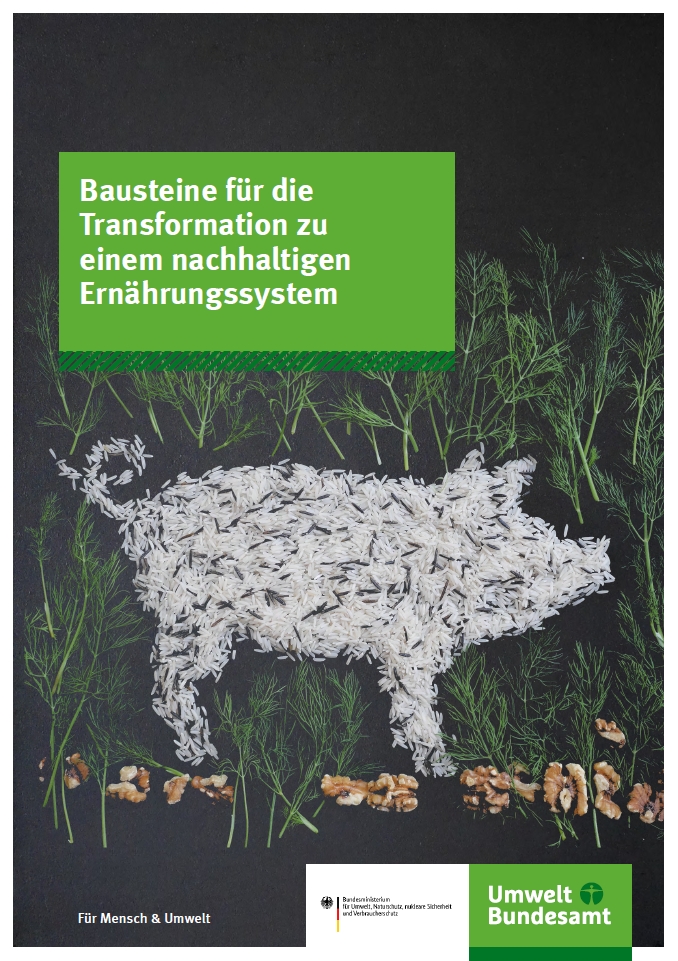 Bausteine für die Transformation zu einem nachhaltigen Ernährungssystem
Publication

Citation

Hanke, G.; Brunn, C.; Jägle, J.; Jánszky, B.; Meier, J.; Mering, F. v.; Quack, D.; Wolff, F. (2023): Bausteine für die Transformation zu einem nachhaltigen Ernährungssystem; Umweltbundesamt, Dessau.
Germany's current food system is not sustainable. The recently concluded research project "Socio-ecological Transformation of the Food System" (in short: STErn) outlines three strategies essential for a shift towards more sustainability: a more plant-based diet, more and improved organic food, and adequate regionalization of value chains.
More plant-based and organically produced food, grown and processed regionally – this formula can make the sustainable transformation of the food system a success.
Strategy 1: Plant-based Diet
Promoting a more plant-based diet is the most effective lever for making our diet more sustainable. By consuming more fruits, vegetables, legumes, and nuts, and less animal products, livestock numbers can be reduced, positively impacting the environment, climate, and biodiversity. This dietary method is also healthier than the current one prevalent in Germany and contributes to ensuring the food supply for a growing global population.
Political measures can help ensure that we put more vegetables and plant-based foods on our plates instead of animal products. To make it as easy as possible for consumers to choose plant-focused foods and dishes, attractive offers in retail and community catering are needed, as well as a reduced value-added tax rate for all plant-based foods.
Occupational training and further education should also be designed so that chefs and other specialists can provide attractive food and dish offers with more vegetables, nuts, or legumes. Institutionalizing the goal in the form of a federal program and/or a non-profit organization to strengthen a plant-focused diet is also sensible.
Strategy 2: Organic Agriculture and Food Industry
Organic farming has beneficial effects on soils, waters, biodiversity, and the climate. Strengthening the organic cultivation of food and simultaneously improving the productivity of organic farming directly contributes to sustainable nutrition.
For this reason, the organic food industry should continue to be consistently promoted, and research activities should specifically aim at improving its environmental performance, such as soil and plant health or animal welfare. Alongside farming, food processing must also be considered. Furthermore, additional measures, such as an educational offensive for organic farming, knowledge transfer to practitioners, more organic food in community catering, or the further development of breeding strategies for plants and animals are effective measures.
Strategy 3: Regional Value Chains
Short value chains for food are another strategy for a sustainable food system. In this way, cultivation becomes more small-scale and diverse, value creation remains in the region, and trust and appreciation for local food production are created. Last but not least, crisis security increases through a more balanced relationship between regional and super-regional structures.
Political promotion of regional value chains should not be generalized but linked to ecological or social conditions. These can be the preservation of old varieties or breeds, as well as organic production or the maintenance of cultural landscapes. Measures suitable for this include a rescue program for regional food processing companies such as bakeries or dairies with targeted promotion and deregulation, and the nationwide establishment and financing of networking points for the development of regional value chains.
The political discourse on sustainable nutrition has recently gained momentum – not only with regard to the federal government's nutrition strategy. The STErn project provides valuable impulses for both, the development of the nutrition strategy and the further development of other relevant strategies, as well as the formulation of concrete measures.
Contact