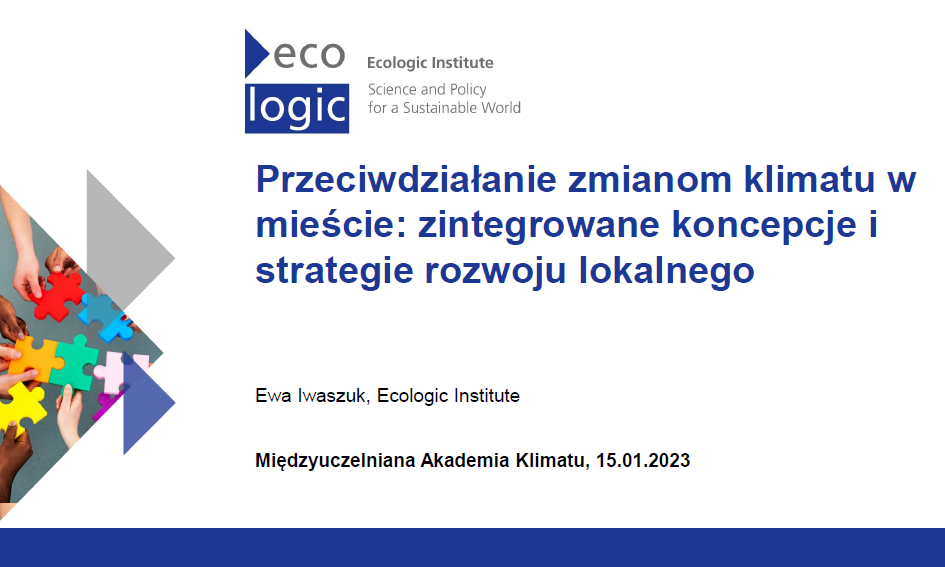 Addressing Climate Change in Cities: Integrated concepts and strategies for local development
Presentation

Date

Location

online

Lecture
On 15 January 2023 Ewa Iwaszuk gave a lecture titled "Addressing climate change in cities: integrated concepts and strategies for local development" to the students of Intercollegiate Academy of Climate (Międzyuczelniana Akademia Klimatu), a post-graduate diploma course jointly run by three universities in Poland (Warsaw School of Economics, AGH University of Science and Technology in Kraków, University of Wrocław).
Ewa's lecture presented key steps and elements that need to be considered by local governments when developing climate mitigation and adaptation strategies. It also presented a landscape of local governance instruments that can be developed and implemented to support integrated planning, cross-sectoral cooperation, participation of citizens and sustainable implementation of such strategies.
The lecture also presented how such an integrated landscape of policy and governance instruments can work together in practice by presenting the example of Berlin and the various strategic, knowledge, financial and cooperative instruments that the city implemented to create a coherent governance framework for climate adaptation.
The lecture, delivered in Polish, formed part of the inaugural edition of the Intercollegiate Academy of Climate.
Contact