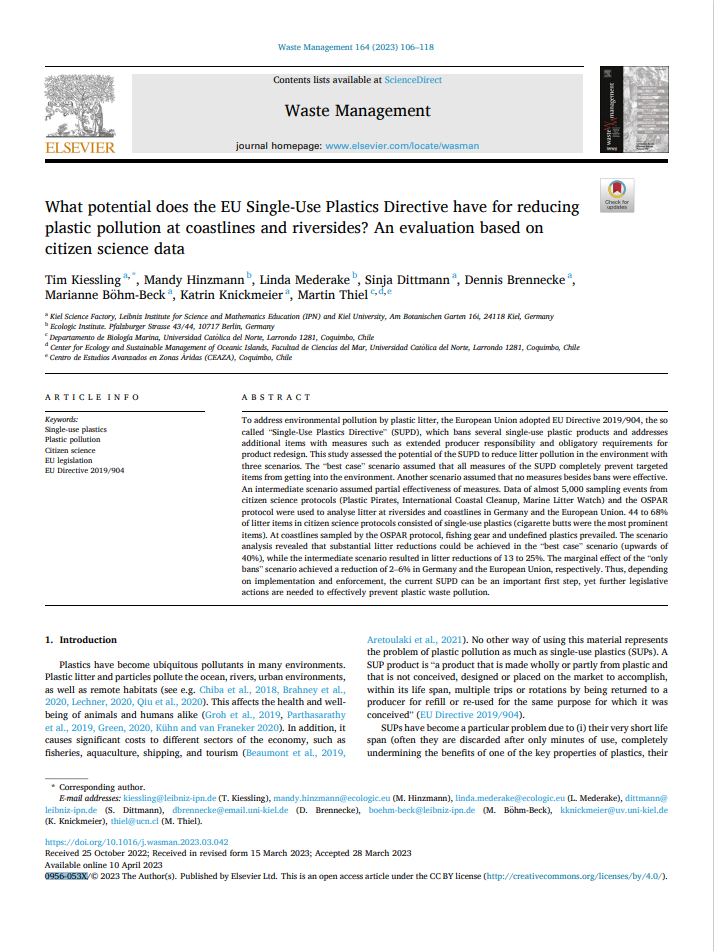 What Potential Does the EU Single-Use Plastics Directive Have for Reducing Plastic Pollution at Coastlines and Riversides?
Publication

Citation

Kiessling, Tim et al. 2023: What potential does the EU Single-Use Plastics Directive have for reducing plastic pollution at coastlines and riversides? An evaluation based on citizen science data. Waste Management 164 (2023).106-118.
To address plastic pollution, the European Union adopted the so called "Single-Use Plastics Directive" (SUPD), which bans several single-use plastic products and introduces measures such as extended producer responsibility and obligatory requirements for product redesign.
This article, co-authored by Mandy Hinzmann and Linda Mederake from Ecologic Institute and published in Waste Management Journal, assesses the potential of the SUPD to reduce litter pollution in the environment with three scenarios. The "best case" scenario assumes that all measures of the SUPD completely prevent targeted items from getting into the environment. Another scenario assumes that no measures besides bans were effective. The third scenario assumes partial effectiveness of measures.
Data of almost 5,000 sampling events from citizen science protocols were used to analyse litter at riversides and coastlines in Germany and the European Union. 44 to 68% of litter items in citizen science protocols consisted of single-use plastics. At coastlines, fishing gear and undefined plastics prevailed.
The scenario analysis revealed that substantial litter reductions could be achieved in the "best case" scenario, while the intermediate scenario resulted in litter reductions of 13 to 25%. The marginal effect of the "only bans" scenario achieved a reduction of 2–6% in Germany and the European Union, respectively. This means that the current SUPD can be an important first step, yet further legislative actions are needed to effectively prevent plastic waste pollution. The success of the Directive is therefore highly dependent on implementation and enforcement.
This article was written as part of the project Plastic Pirates - Go Europe!, which produced valuable data sets on litter occurrences along rivers, as most other initiatives largely focus on coastal areas.
Contact