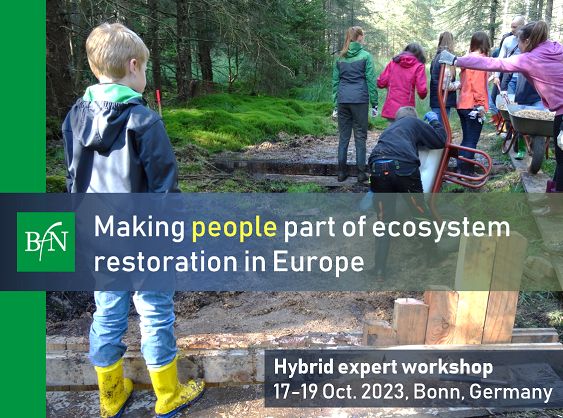 Creating Enabling Conditions for Ecosystem Restoration
Tools and guidelines for local impact
Presentation

Date

Location

online and Bonn, Germany

Speech
Ecosystem restoration is gaining momentum in science and policy as a process that can jointly tackle biodiversity loss, climate change and other societal challenges. The human and social dimensions of restoration projects, however, often insufficiently considered. The German Federal Agency for Nature Conservation (BfN) hosted a hybrid workshop entitled Making people part of ecosystem restoration in Europe from 17 to 19 October 2023 to explore this topic. McKenna Davis, Senior Fellow at Ecologic Institute, held a keynote presentation on "Creating enabling conditions for ecosystem restoration: Tools and guidelines for local impact".
The three-day workshop brought together European experts from science, policy and practice to discuss how inclusive, rights-based design and planning processes, and participatory, multi-stakeholder implementation can be strengthened to ensure the engagement of local communities and other stakeholders in nature restoration. The underlying objective is to increase acceptance, social license, ownership and the sustainability of restoration interventions in the long-term.
McKenna Davis's presentation outlined common structural, socio-cultural and economic barriers to ecosystem restoration as well as potential enabling factors around inclusive governance, smart spatial planning and progressive economic and financial regulations. Her keynote highlighted the need for a more holistic framework for ecosystem restoration, going beyond rehabilitating landscapes to foster a sense of share purpose, responsibility and well-being. This requires transdisciplinarity and inclusivity in research and practice, including in the co-creation of tools, guidelines, etc. together with the stakeholders meant to ultimately use these resources. McKenna Davis outlined the participatory development of the Urban Governance Atlas as an example of how this can be done in practice. The agile approach applied is one tool for supporting stakeholder inclusion and the uptake of developed products.
Contact