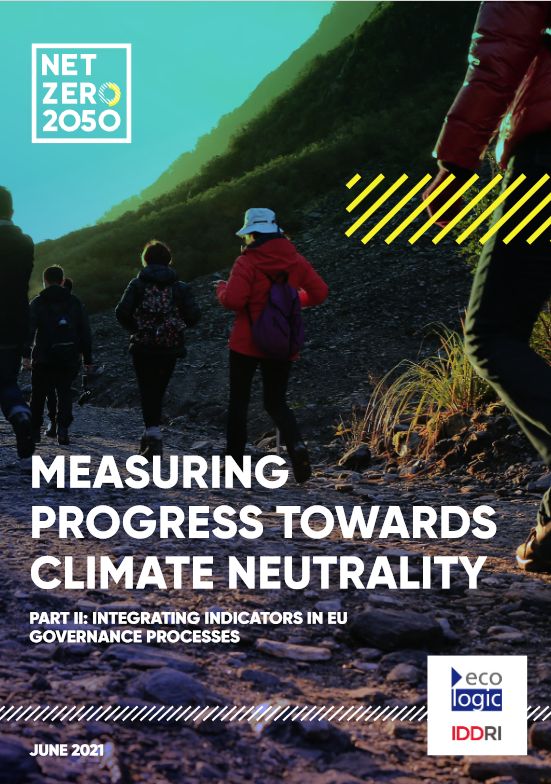 Measuring Progress towards Climate Neutrality – Part II
Integrating indicators in EU governance processes
Publication

Citation

Duwe, Matthias; Eike Karola Velten, Isabel Haase, Nicolas Berghmans, Nick Evans and Deyana Spasova (2021): Measuring progress towards climate neutrality. Part II: Integrating indicators in EU governance processes. Ecologic Institute, Berlin / IDDRI, Paris
The EU has set a legally binding target of a climate neutral Europe by 2050. Tracking progress towards this goal in an accurate and systematic way is important. The EU needs a clear impression of what has been achieved, but also the way forward. Currently, various EU policy processes aim at either defining new progress monitoring systems or revising existing procedures for planning and reporting. There is no uniform way to measure progress towards climate neutrality in the EU. To plan policies accordingly, a complex, but unified methodology is needed – one that can assess and anticipate underlying structural change for different key elements.
In cooperation with the Institute for Sustainable Development and International Relations (IDDRI), Ecologic Institute has developed a methodology that measures structural change by using a set of common net-zero indicators. This report formulates ways to integrate these indicators into existing policy processes.  
The report shows that a common indicator set could serve several purposes and inform various tracking instruments, e.g., the European Green Deal dashboard, Commission progress reports, country-specific recommendations, and Member State planning processes such as National Energy and Climate Plans (NECPs) and national Long-Term Strategies (LTSs). Consequently, the comparability and accountability of EU policies could be significantly strengthened, which would have a positive impact on shaping Europe's climate neutral future.
Contact