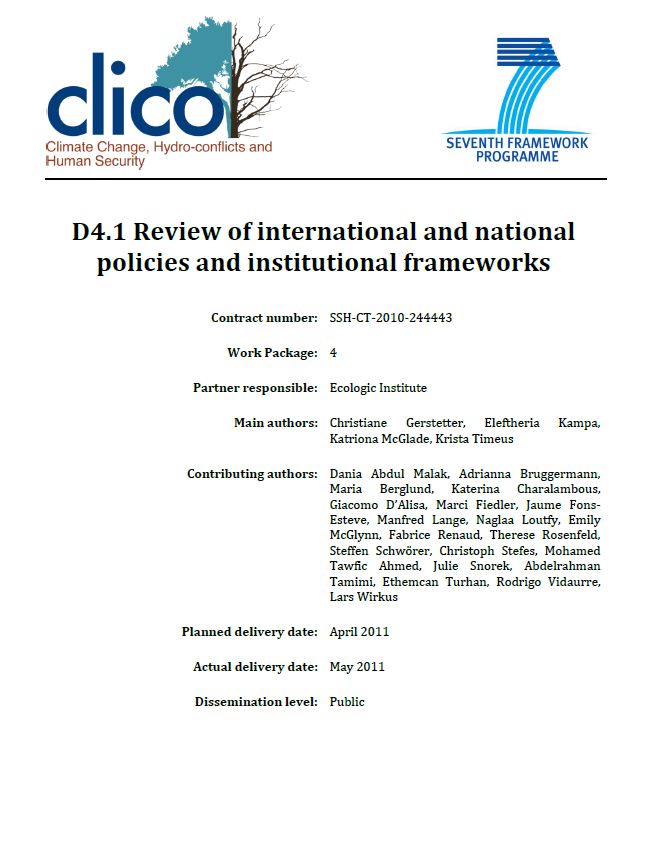 Review of Policies on Climate Change, Water Conflicts and Human Security
Publication

Citation

Gerstetter, Christiane et al. 2011: Review of policies on climate change, water conflicts and human security. Ecologic Institute, Berlin.
The Mediterranean, Middle East, and Sahel region is a climate change "hot spot". Whether climate change undermines human security and creates conflict or results in cooperation over water resources depends in part on the institutions in place and policies adopted in these areas. This report, compiled as part of the CLICO research project, provides initial insight into the current policy landscape on climate change adaptation and water resources management, and the extent to which impacts of hydro-climatic hazards on human security and conflict are already addressed.
Using a case study approach, selected policies have been reviewed in specific countries in the Mediterranean, Middle East and Sahel region; case studies of individual strategies and initiatives were also conducted at the United Nations and European Union level. As the case studies have shown, very few policies today explicitly address the link between climate change, water, human security and conflict or cooperation. Of the few policies that explicitly address the link, most are located at the international level. However, at the national level, some adaptation and sectoral policies do address risks for human security linked to water and climate change in more indirect manners, such as water user associations in Egypt or an agricultural insurance scheme in Turkey.
This paper was drafted in the context of the CLICO research project funded under the 7th Research Framework Programme of the EU.
It is available for download here [pdf, 10 MB, English] or from the CLICO website.
Contact